Craters & Freighters of Austin, TX and Craters & Freighters of Las Vegas teamed up to help Variety, The Children's Charity of Texas crate and ship "Heartly" their mascot. Heartly was packed with care in a custom wood crate in Austin and shipped to Las Vegas where he will be delivered to a venue for Variety's World Conference. Heartly will eventually make his way back home to the Austin area. Heartly's finished crate measured 58"x52"x79" and weighed in at 394 lbs.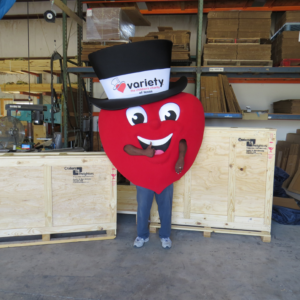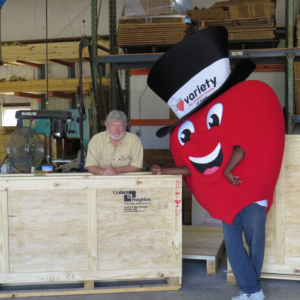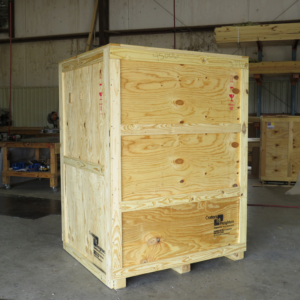 Clarke Erskine, owner of Craters & Freighters Austin adds, "Sara Record contacted us for a shipping quote for Heartly. We were delighted to help a local children's charity with their mascot's shipping needs and offered our services free of charge. We enjoyed having the opportunity to work with Variety and have Heartly at our crating facility. One of the exciting things about this business is that no two shipments are alike and we work with some wonderful local organizations."
Variety started in 1936, with the goal to empower children with special needs through four major programs. Variety Freedom gives children the opportunity to gain mobility freedom through wheelchairs, adaptive bikes, strollers, prosthetic limbs, and other devices. Variety Caring funds children's medical needs other than mobility, with therapy, surgery, and other important procedures. Variety Future Kids funds educational equipment to improve academic performance and communication skills. Peaceable Kingdom Retreat for Children is Variety's flagship program that serves over 5,000 children with special needs on a 122-acre camp in Killeen. For more information on Variety, please visit: VarietyTexas.org or their Facebook page: VarietyTX.
ABOUT CRATERS & FREIGHTERS
Craters & Freighters was founded in June 1990 to meet the needs of businesses and consumers for specialty freight handling, including pick-up, crating, shipping, tracking, insuring and delivery of shipments that are too heavy, oversized, valuable, awkward, and time-sensitive for other shipping agencies. The company serves all industries including electronics, medical equipment, robotics, fine art galleries and antiques. Craters & Freighters has 64 locations nationwide.